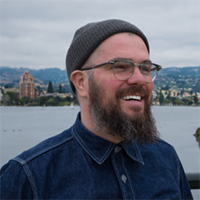 Micah Anderson
Micah is an empathic marriage family therapist intern with a humanistic-existential approach, offering over 7 years experience with both group facilitation, couples work, and one-on-ones. His strengths include mindfulness-based interventions, trauma and crisis, at-risk and incarcerated youth, and Muslim outreach.
Born in Connecticut, Micah Anderson spent several of his teen years in and out of placements. After years involved in 12-step fellowship, followed by extensive travel overseas searching for a spiritual path, he began a personal meditation practice in the early 1990s.
Since then, he taught retreats and led trainings on mindfulness and emotional literacy in five countries, and leads a weekly meditation group in the Bay Area. Micah is the Director of Wellness at Ta'leef Collective, a semi-sacred space and community center for Muslims with campuses in both the Bay Area and Chicago. He is also a Program Director for the Mind Body Awareness Project, an Oakland, CA.-based non-profit that provides mindfulness and emotional literacy groups to incarcerated youth. He is currently collecting BBS hours under both sites, running groups as well as providing psychotherapy for both individuals, families, and couples.
Micah lives in Oakland, CA. with his wife and two children, and has an M.A. in Psychology/Counseling from Sofia University (formerly the Institute of Transpersonal Psychology).