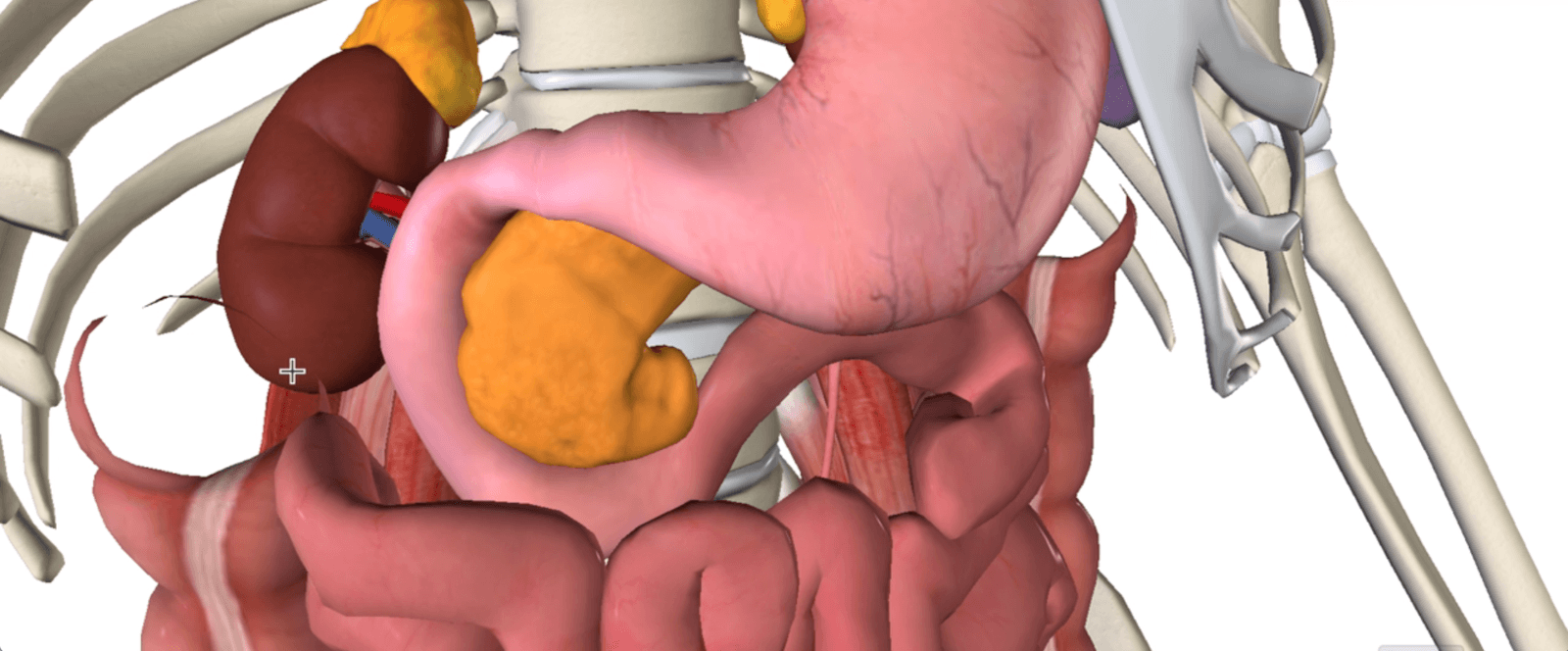 Kidney Anatomy – General Features
Category:

Uncategorized.
Color
Kidney in the fresh state has reddish-brown.
Dimensions
11 cm long

6 cm wide

3 cm thick
Weight
Males: 150 g

Females: 135 g
General Relations
Retroperitoneal organ

Lies on the ventral surface of the quadratus lumborum muscle.

Lateral to the psoas major, psoas minor, and the spinal column.

Middle parenchyma is called Medulla and the outer parenchyma Covering the medulla is called Cortex
Renal Capsules and Fasciae
True or renal capsule is a thin sheet of fascia that can be easily peeled in a healthy individual. In some pathologies this sheet can become scarred and firmly adherent to the kidney surface.
Hilum
A vertical cleft on the concave medial side of the kidney. From anterior to posterior hilum contains renal vein, renal artery, and renal pelvis. Renal hilum continues inwards to contain renal vessels, lymphatics, renal pelvis, major and minor calyces, nerve plexus, and some fat.
Right Kidney (1.5 cm lower than the left kidney)
Upper pole at T12.

Right kidney's hilum is 5cm from the median plane and below the transpyloric plane.

Below the spinous process of the L1 vertebra.

Related to rib 12.
Structures anterior to the right kidney
   

Right suprarenal gland

   

Right colic flexure

   

Small intestine

   

Part of the descending duodenum

   

Liver
Structures posterior to the right kidney
   

12th rib

   

Transverse process of L1 vertebra

   

Diaphragm

   

Psoas Major

   

Quadratus Lumborum

   

Tendon of Transverse Abdominis muscle
Left Kidney (1.5 cm higher than the right kidney)
Upper pole at T11

Hilum of the left kidney is 5cm from the median plane at the lower border of the spinous process of the L1 vertebra.

Transpyloric plane passes through the hilum of the left kidney and L1. (Remember L for Left).

Related to ribs 11 and 12
Structures anterior to the left kidney
   

Left suprarenal gland

   

Stomach

   

Jejunum

   

Left colic flexure

   

Pancreas

   

Spleen
Structures posterior to the left kidney
   

11th and 12th ribs

   

Transverse process of L1 vertebra

   

Diaphragm

   

Psoas Major

   

Quadratus Lumborum

   

Tendon of Transverse Abdominis muscle